Have you ever thought that by simply knitting a square you might help a child, orphaned by AIDS? Yes, you can! You can make a big difference to an African child's everyday with just as little as some stash yarn and a hook or needle.
There are an estimated 1.9 million AIDS orphans in Sub-Saharan Africa. 500 children a day are made orphans by the combined ravages of AIDS and poverty. Most of them are left to fend for themselves in shanty towns. Governments and charity organizations do what they can, but it is not enough.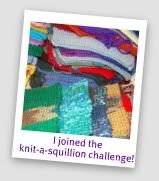 My lovely friend Laurie over at
Kitty's Fiber Journey
brought this to my attention. She is on a mission to knit 500 squares by June 1, 2012 but
she needs our help
! Let's join forces for a good cause!
Why squares?
Because they can be easily connected to each other and turned into blankets. That is how your love and craftiness will help warm an African AIDS orphan's heart.
How you can help
Knit/crochet a 8" (20 cm) square and
send it
to Laurie. She is so into this project that she will reward you with a coupon to her brand new online yarn shop
Hands with Hearts
. So by giving a bit of your yarn away you will be getting some back. Isn't she generous!
Also, don't forget to grab her button and post it on your blog to help spread the word!
All you need to do is knit.
Turn your passion into warmth and care for someone on the other side of the world.
Visit
Kitty's Fiber Journey
to learn more and get Laurie's address, so you know where to send your squares.
Me? I'm already crocheting mine. How about you?