By Vanessa Williams
While many of us in the United States spend our summers eating ice cream and lounging in a pool, there are two things that we Pennsylvanians cannot let summer pass us by without doing - visiting an amusement park and going to a drive-in.
There are at least ten amusement parks that call Pennsylvania home (at one time there were more than 50!). You may recognize Kennywood Park out near Pittsburgh, or Hersheypark in Hershey, Pennsylvania (aka the sweetest place on Earth). I grew up going to Hersheypark, so naturally I looked forward to sharing that experience with my daughter.
She is still only nine months, so an amusement park visit, along with its heavy price tag, seemed a bit of a waste. Then I remembered Knoebels Grove. Knoebels is an old style amusement park with free admission, and free parking. You pay as you go with tickets. For this reason it gets high marks for multi-generational families and grandparents who don't have to pay for rides they aren't going to go on. It's also home to the famous Phoenix wooden roller coaster that ranks as one of the top coasters in the country year after year.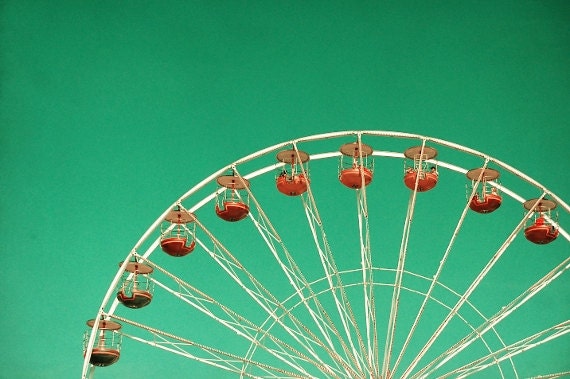 So I found myself there on the Fourth of July with my husband and daughter, picnic basket in hand. We rode a variety of things from boats to trains, but the highlight was the carousel. Nothing brings up childhood more like a carousel. Its simple merry go round feature, and cheerful horses appeal to all of us. This particular carousel was celebrating it's 100th birthday this year and there was a modest celebration to mark the occasion which included cake. My daughter absolutely loved going around and around - her face lit up like the fireworks that went off that evening.
But the surprise hit was a player piano tucked away in a coal museum on the grounds. It's not often you see a player piano, so I plunked the fifty cents in the machine and watched it come to life. My daughter, who loves just about anything that makes music, was completely entranced. Her eyes got wide as she intently watched the keys move up and down playing an upbeat toon.
She was so fixated a stranger even commented on it. "Who needs video games?" she said. Who indeed? As we ate our lunch in one of the many picnic pavilions I marvelled at how much the place hasn't changed. In the nearly ninety year history, rides have come and gone, but families still flocked here by the droves to enjoy a day out with their loved ones among the shady trees. It was like summer encapsulated in one magical place. Barbeques and pools, cotton candy and camping.
Drive-ins are experiencing a resurgence, and in my region we have not one, but two drive-ins including the oldest continually operating in the United States. Like the amusement park, they offer outstanding value - a double feature! You can pack snacks too. And drive-ins have the added bonus of being baby-friendly in that you can take your little one along and just have them sleep. Watching a movie under the stars with a sleeping baby on your chest is a wonderful way to spend a summer evening.
I share these stories because I know I will look back at this first summer as a family together fondly. Don't let summer, or time, pass you by. Make the most of every season. Make new memories, cherish old ones, and slow down a bit. That's what summer is all about anyway, isn't it?